Experience the
Mediterranean
Indulge in our unique personal care collections, each one inspired by what nature has to offer and the beauty we experience around us.
Reason to love us
Parabens, Alcohol, Silicon, Phthalates, Gluten
DURU (DOO-ROO)
WHO?
The Duru brand has been delighting people for over half a century in the Mediterranean and beyond with our nature-inspired collection of soaps, washes and other personal care items. Founded by the Evyap family, and still owned & operated today by the 3rd generation of family, Duru takes pride in bringing a bit of indulgence to everyday moments. Available for the first time in the U.S. market with new formulas and fragrances, we hope you'll enjoy our products as much as we enjoy sharing them with you.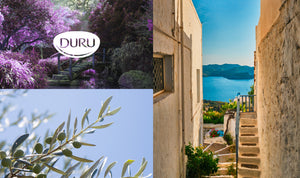 Don't take our word for it
★★★★★

Love, love, love this product! The olive oil body wash smells amazing and makes me feel like I'm standing in a tree grove overlooking the ocean somewhere far away. It suds up great and leaves my skin feeling so soft and clean, with a really pleasant scent. This is definitely my new go to, especially when I need a little me time.

Niki B.
★★★★★

The Micellar bar soap is awesome. It's really moisturizing and it doesn't leave any residue! The smell is invigorating, it wakes up your senses. This soap makes me feel clean and refreshed.

Sidney B.
★★★★★

The Superfood Oils body wash makes taking a shower a pleasure, with both a refreshing scent and moisturizing effect. There is no residue or dry feeling after the shower. This body wash is great.

Kevin H.
★★★★★

The Olive Oil body wash is really sudsy and leaves my skin feel really moisturized. The transparent bar soaps are great - they smell really fresh, are surprisingly moisturizing for bar soap and don't leave any soap scum in the shower.

Paul S.
★★★★★

These products are great. I tried the Micellar body wash, which left me feeling clean without dry skin as promised. It smells really nice, without being too overpowering. The Avocado spray lotion also had a nice pleasant scent without being too much, it was easy to apply, didn't leave any residue and left my skin soft.

Rick T.
Duru Superfood Oils Body Wash
Our Superfood Oils body wash line uses cold-pressed and organic oils to strike the perfect balance of moisturizing and cleansing.
View All
Duru Hydropure Transparent Soaps
Our Hydropure Soap line uses 10x more natural moisturizers in a uniquely transparent bar soap to provide exceptional moisturizing and gentle cleansing for sensitive skin.
Shop Oil
Micellar Water
Our Micellar body wash & bar soap leverages this miracle ingredient widely used in the beauty industry to gently remove impurities from the skin.
Shop Now