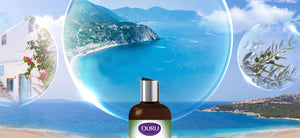 Duru (pronounced Doo-Roo) Who?
The Duru brand has been delighting people for over half a century in the Mediterranean and beyond with our nature-inspired collection of soaps, washes and other personal care items. Founded by the Evyap family, and still owned & operated today by the 3rd generation of family, Duru takes pride in bringing a bit of indulgence to everyday moments. Available for the first time in the US market with new formulas and fragrances, we hope you'll enjoy our products as much as we enjoy sharing them with you.
Duru-us.com is owned by Evyap America, Inc., a US subsidiary of Evyap International.